Bed Pillow Bamboo - Fly Me To The Moon Sky
The Bamboo Pillow is the ideal product for all of you "bamboo mists" fans out there.
The pillow is flat and perfect for all babies. A pillow is perfect for hot weather, made of 100% bamboo fabric. The soft and breathable fabric prevents overheating of the baby. Universal size, suitable for any child. You can pick a bamboo wrap to the set.
The soft and breathable material prevents the baby from overheating - especially recommended for the little ones with gentle skin. The bamboo fabric will prevent the baby from irritating its skin and overly sweating during high temperatures. Now you can walk in even the hottest weather. The pillow can work as a set with our other products.
Don't forget the most important properties of the bamboo fabric:
3 x A: antibacterial, anti-fungal, anti-allergenic

free from pesticides and contaminants

water and sweat-absorbent

self-sterilizing (the fabric sterilizes itself up to 30% of what it has absorbed, producing a feeling of freshness)

neutralizes unpleasant smells (absorbs bad smells and releases them only during washing)

full biodegradability
The dyes are human-friendly and environment-friendly, under the OEKO-TEX Standard 100 Certificate. The advantages of the bamboo fabric are confirmed in researches conducted by the Passage Cosmetics Laboratory, the Padmed laboratory, as well as by a positive opinion and test results of the Institute of Mother and Child, document no. op-4333.
It is recommended to wash the product before first use. With each washing, the bamboo fabric will be even smoother than before.
The product is hand-sewn with utmost precision, using the best quality materials. It is packaged and shipped inside a branded linen bag and decorated with a cute heart tag. It will be a stylish, original gift for a baby shower, birthday, or any other pleasant occasion.
Dimensions: 40x60 cm, (+/- 2 cm)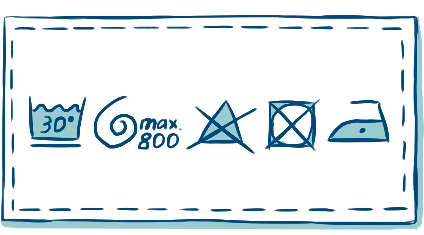 1. Machine-washable, max. 30°, suggested setting: delicate, max. 800 RPMs;
2. Iron only cotton and bamboo fabrics, temperature: 110°;
3. Do not bleach;
4. Do not hand-wash;
5. Do not machine/tumble-dry;
No customer reviews for the moment.